Honey Harvest 2017
[[Honey Harvest Kids:Component:1D964736-E238-9DF5-6041-1159A034EDA5]]
Planet Bee will be here providing educational information about the importance of bees. Suit up and help extract the hives!!
Beekeeping suits will be provided during the harvest of the honey and all guests who sign up will leave with some fresh honey to take home! Adults will also receive one free glass of wine. So come out to Keller Estate and have a honey-riffic time with us! This is a family oriented event.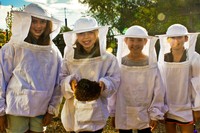 The ticket price is $20 per guest over 21 anyone under 21 are FREE.