Keller Sampler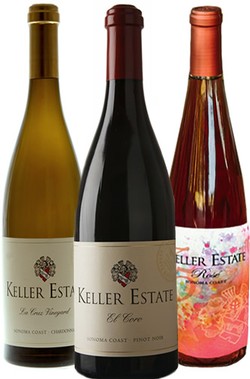 A three bottle selection of Keller Estate's fan favorites. 1 bottle of 2013 La Cruz Chardonnay, 1 bottle of 2012 El Coro Pinot Noir and 1 bottle of our 2015 Rosé of Syrah.
2013 La Cruz Chardonnay
Aromas of spiced baked apple, tropical fruit, lemon curd and creamy vanilla continue as flavors in the richly textured mouth and linger through the long, delicious finish.
2012 El Coro Pinot Noir

El Coro is a selection from our ridgetop vineyard where the vines are exposed to the strong Petaluma Gap winds. We source from 7 different Pinot Noir clones and made an elegant layered wine.
2015 Rosé of Syrah

While our Estate is planted predominantly in chardonnay and pinot noir, a small block of syrah yields two syrah-driven wines each year--a big, dark red (Rotie) and this lighter, buoyant rose, inspired by the traditional techniques of the Rhone. We de-stem the syrah clusters for intact berries. The effort preserves fruitier, more pristine flavors. A vibrant color is gained as the skins are left to soak for twelve to eighteen hours. Then we ferment the wine at cool temperatures (50-55F) for a slower, gentle fermentation process lasting up to three-weeks. In this respect, our rosé is a little like a tea preparation at home. Grape skins instead of tea leaves soak in chilled juice to capture a more delicate essence. A naturally bright, fruit-forward, refreshing wine is the result.