Rotie Vertical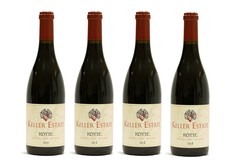 This bundle contains 4 wines:
1 bottle of 2010 Rotie
1 bottle of 2011 Rotie
1 bottle of 2012 Rotie
1 bottle of 2013 Rotie
The Rotie is a wine that is smooth and velvety, soft tannins. Although Syrah can be a very powerful grape, the Viognier brightens mineral characteristics of the wine with soft floral aromatics that taunt the senses, giving you more as the wine opens up in the glass.
Each vintage has charactictics all of its own, and I encourge you to expirence this one time only treat for your self, and share with us your thoughts.