Before planting the vineyards, the Keller family carefully studied the 650-acre Petaluma ranch to assess its composition.
---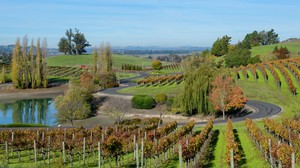 After analyzing the soils, slopes, and microclimates, it was determined that there were two main areas to develop. The majority of the La Cruz Vineyard, where all of the Chardonnay, Syrah, Pinot Gris, and slightly over half of our Pinot Noir, are grown, resides on the lower hills of the property. The soils here are multi-layered, mineral-ladened clays that were once San Pablo Bay seabeds. This mineral character comes through in all of the wines and is very much a part of Keller Estate's unique terroir.
Since the planting of our La Cruz Vineyard in 1989, Keller Estate has pursued a blueprint of clonal, or grape sub-variety, diversity based on the altitude, orientation and soil composition of each vineyard section. The diversity creates the elements on which to build textures, flavors, aromas, and ultimately complexity into the wines.
The 20-acre El Coro block was planted with seven different clones of Pinot Noir. The vineyard sits high on the ridge-top where the vines are more exposed to the winds that bring the Pacific maritime air and fog through the Petaluma Gap. The terroir is defined by a thin loamy clay with a volcanic subsoil. The Pinot Noirs from the El Coro block is very expressive, with beautiful aromatics and great structure that shine through.