February 2019
An evening with Sonoma County Legends
7:00 PM to 9:00 PM
Tue, Feb 26, 2019
Venue:
Krug Event Center Best Western Dry Creek Inn
Celebrating the 30th Anniversary of the Sonoma County Wine Library. The Friends of the Sonoma County Wine Library are featuring 5 Sonoma County wine legends with a tasting of their wines and a panel moderated by internationally known wine writer Linda Murphy. They are Ana Keller (Keller Estate), David Ramey (Ramey Winery), David Stare (Dry Creek Vineyard), Tom Rochioli (Rochioli Vineyards) and Richard Arrowood (Amapola Creek).

March 2019
Sip Petaluma
2:00 PM to 5:00 PM
Sat, Mar 2, 2019
Venue:
Keller Street Co-Work, Petaluma
Join Keller Street CoWork for Sip Petaluma featuring a dozen premiere wineries, including Keller Estate, wonderful nibbles from Anaviv Catering & Events, live music by Clay Bell and beautiful artwork from local artists. $20 tickets, in advance, none sold at the door.
World of Pinot Noir
2:00 PM to 6:00 PM
Sat, Mar 2, 2019
Venue:
Santa Barbara, California
Join Ana Keller to celebrate the magic of Pinot Noir at the gorgeous Ritz Carton- Bacara in Santa Barbara. Ana will be pouring the afternoon of March 2nd.
April 2019
Underground Event and Winemaker Dinner at Relish in Healdsburg
6:00 PM to 9:00 PM
Fri, Apr 5, 2019 - Sat, Apr 6, 2019
Venue:
Relish Culinary Adventures
Underground Wine Events we will be hosting a Friday evening exclusive winemaker Dinner featuring Brian Callahan & Steve Gower of Crux Winery, Ana Keller of Keller Estate, Kristie & Kieran Robinson of Kieran Robinson Wines. Chef Jack Herron is creating a menu to pair perfectly with the wines of these three fantastic producers. This is an exclusive event you will not want to miss! $150 per person. Join us the next day for another day of tasting at Longboard.
June 2019
Kapalua Wine and Food Festival
Thu, Jun 6, 2019 - Sun, Jun 9, 2019
Venue:
Kapalua Resort, Maui
The annual Kapalua Wine and Food Festival is a celebration of epicurean excellence showcasing the finest in food and wine and embracing all things Hawaiian – notably – the fabulous culinary bounty on Maui at the world-renowned Kapalua Resort. Winemaker Julien Teichmann will be featured at a Petaluma Gap AVA panel. What a better way to enjoy Hawaii! Mahalo.
Keller Estate Second Annual Car Rally
Sat, Jun 8, 2019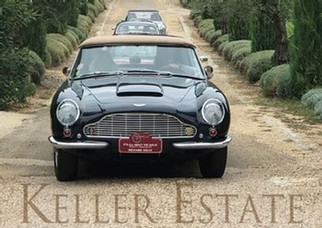 Arturo Keller, founder of Keller Estate has an undying passion for beautiful automobiles. Our Second Annual Car Rally is ready for the road. This special event is by invitation only, so please take a few moments to fill out our application form below.
The day will begin with all participants meeting at Keller Estate for a light "warm your motor" coffee. Our carefully selected drive will take us through beautiful roads of Sonoma and Napa. Route is still in progress.
The event will culminate back at Keller Estate for a 3-course dinner (in a surprise location) with wine pairings overlooking the Petaluma Gap and our beautiful Estate while enjoying the new friendships you've made. We will have a designated area to freshen up prior to dinner, but please note, it's a casual affair with amazing food. We know the road can have its complications so we will be followed by our extremely gifted mechanic team to make sure you can focus entirely on enjoying your day.
STARTS 9:30 AM
LUNCH 12:00 PM
DINNER 6:00 PM
$295 PER PERSON ALL INCLUSIVE
LIMITED TO 20 COUPLES
November 2019
Danube River Cruise
Sun, Nov 10, 2019 - Sun, Nov 17, 2019
Join Ana Keller for a 7-night wine cruise on the Romantic Danube River!
Begin your journey in Vilshofen, Germany before traveling through Austria's picturesque wine region, The Wachau Valley. Along the way to Budapest enjoy a series of excursions, some wine related and others exploring the beautiful history and scenery of the region. Look forward to the added benefit of onboard wine pairings and award-winning cuisine, learning about winemaking in renowned vineyards, and of course, discussions and tastings lead by your host Ana Keller. Treat yourself and don't miss out on this incredible adventure!