March 31, 2022 | Newsletter | Ana Keller
Celebrating 90th birthday of founder Arturo Keller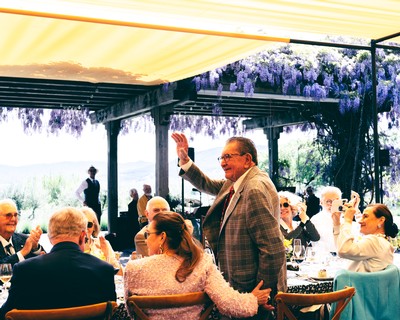 On March 30th, our founder, my grandfather Arturo celebrated his 90th birthday! We had a wonderful weekend with family and friends celebrating a life well lived, shared stories and laughs, took many pictures and of course enjoyed wonderful wines. We dug into our cellar and brought out some of our most stellar wines for the celebration. Our choices for the day were the 2008 Precioso Chardonnay and 2014 Rotie, it made us happy to add a few more milestone vintages to his special day.
There's something to be said about drinking newly released wine, with its robust, fresh, and wild flavors exciting the palate. Although it is known that aging wines can bring out exceptional and nuanced flavors to the tasting and drinking experience, over 90% of wine is consumed within 48 hours of purchase. Yet, there is a wonderful things about aged wines, and there are several tasting room jewels from the Keller Family's Cellar we want to share with you.
HERE ARE SOME OF MY THOUGHTS ON ENJOYING AGED WINE:
Older wine needs to be carefully tended to have a successful experience. Once the wine arrives home and before you decide to open a bottle, it should rest for a couple of days, or longer, in a cool place, allowing the wine sediment to settle and cork to moist and expand.
The optimum temperature is the low 60 degrees when opening wine, as the wine will warm up in your glass.
Opening the wine can sometimes be difficult, as the cork may soften. Do not despair if the cork breaks apart, as you can pour the wine slowly through a filter or tight mesh strainer. Once the cork and foil have been removed, wipe the bottleneck clean. You will want to decant the wine carefully, pouring slowly and steadily, without stopping, into the decanter or large, clean container. Once you see the sediment in the neck of the bottle, stop pouring and discard the remaining wine.
THOUGHTS ON FOOD PAIRINGS….
Let's talk briefly about pairing food with aged wine: an easy rule is that young wines pair better with fast cooked meals, think grilled meats. When pairing for an aged wine, then choosing a slow-cooked food will make that wine shine. Beef Bourguignon, for a pinot noir, a seafood risotto for a chardonnay.