December 21, 2021 | Newsletter | Ana Keller
Magnolias in December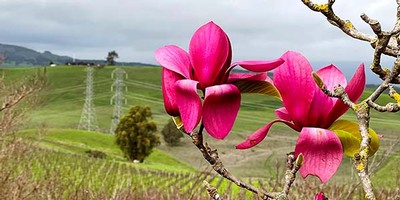 Winter is when we have a chance to forget about the vineyard for a few months. Plants go dormant, and pruning starts early in 2022. As it was to be, we had an atmospheric river come through Sonoma County in October, irrigating our vineyards and putting water in our ponds. We were, of course, very relieved.
However, a warm fall meant that the water reinvigorated the plants and didn't go straight to dormancy. It's December and to our surprise we have some beautiful magnolias in full bloom. Traditionally bloom happens between late January and March. We also are seeing some swelling of the vines; thankfully, it is now very cold, and hopefully, the vines will go dormant. I encourage you to look around, and you will notice these changes. We need to take notice and have a constant reminder to take action and combat global warming.
At Keller Estate, we will continue to review all our practices and establishing new goals to reduce our footprint. Our vineyard practices, infrastructure, bottling, we will do everything we can and invite you to take action too.
As we look forward to new beginnings, we invite you to check out our fun-filled calendar of in-person and online activities for 2022. Some classic favorites (our Harvest celebration and car rally are back). New are some fun activities that will make your day just a little more exciting with a glass of Keller Estate by your side.
I would like to take a moment and acknowledge the work of all our team. Javier Rascon started as Vineyard Manager in January 2021, and he had a brutal drought season. After nurturing and carefully tending to our vines, I know 2022 will feel like a breeze. Julien Teichmann continues to craft stellar wines and find new ways to improve our quality. The third critical member is Jose Cruz, our Hospitality Manager, whose passion for serving wine to our guests and creating a friendly hospitality team has made our Tasting Room a wonderful place to visit.
Together with their teams and the Keller family, we wish you happy holidays and a healthy, happy 2022.