June 17, 2022 | Newsletter, Winemaking | Ana Keller
A Tale of Two Barrels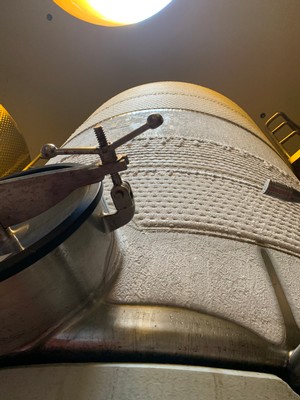 When visiting Keller Estate and near the end of the winery tour, we walk our guests from the wine production facility, through the cave, and back to the tasting room. Lined up, we see a few hundred French oak barrels along the cave walls, many stacked two high. Here and there, one notices a few dozen stainless steel barrels, and the question has been asked: when and for what wines does Keller Estate use those barrels?
STAINLESS STEEL VS. AGED OAK BARRELS
Stainless steel barrels have only been used for aging since the 1950s. Their use swept through Chablis and Europe, and across the US wine-making regions adding a new facet to the wine-making toolkit. The oak barrels in use for centuries adds oxygen, tannins, and layers of flavor to the wine during barrel aging. While that is desired for most red wines and many Chardonnays, those same flavors can overwhelm the taste of many white wine grapes. Stainless steel does not let any oxygen into the barrel, resulting in freshness and a crisp character to the wine. As the wine develops, it builds a more fruit-forward profile, both in aroma and taste.
At Keller Estate, we use French oak for our Pinot Noirs, Syrah, and most Chardonnays. For our Rose of Pinot Noir, Pinot Gris, and Oro de Plata Chardonnay, we choose to ferment in stainless steel tanks and age the wine mainly in stainless steel barrels, as it allows us to capture the essence of each varietal and the expressions of the estate.
Additionally, there are many advantages to using stainless steel barrels:
no oxidation of wine
better temperature control
environmentally friendly
Reusable for years
easy to clean
no flavor transfer from the previous barrel use.
These advantages, along with our cool Petaluma Gap climate, contribute to light, fresh, crisp, and food-friendly wines.